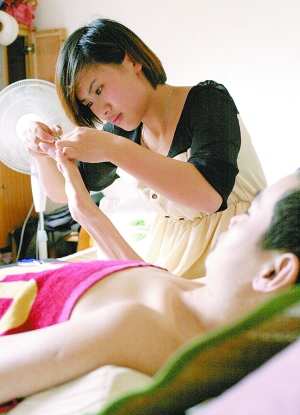 Every evening, yan Chaoxia, 23, rides her electric scooter to her uncle's house more than 10 kilometers away after work.Such a situation, colleagues have been accustomed to: "she is rushed back to take care of the third uncle and grandfather."
Yan Chaoxia, a post-90s girl, works at Zhejiang Zhongyun Mabou Co., in Songyang County.
Yan Chaoxia lost her father when she was 6 years old and lived in poverty.But her grandfather's family gave her meticulous care. Her grandfather's care and the love of her three uncles made her grow up like her peers.
In a twinkling of an eye, the former little girl has grown into a big girl, but her third uncle and grandfather have been lying on the bed.
She was the nurse for my grandfather and third uncle
Last year, third uncle He Genghua was hospitalized because of a fall.In August, although he was discharged from hospital, he was disabled and had to lie in bed.He Genghua in his early 30s, has not married a wife, more no children, the problem of escort care suddenly placed in front of the family.At that time, yan Chaoxia, her niece, took the initiative to stand out.
At the beginning of this year, her grandmother died. Her grandfather, who was already hunchback, suffered from arteriosclerosis and occlusion of bilateral lower limbs in his right leg, which made walking more difficult. Yan Chaoxia stood up again.Yan Chaoxia thought simply that she was young, had gone to school, and knew a little more.And grandmother died at the beginning of the year, the third uncle did not get married, the knee has no children, there is no one to take care of them, "I think, this should be done by me.
My uncles lived with my grandfather.As soon as she arrived at their house, Yan Chaoxia was busy. After distributing the delicious food she had brought back from the road to her grandfather, she was busy washing rice and cooking it. Then she went to third Uncle's room.
"Are you feeling better today?In the greetings, the tea end to the three uncle.In order to let three uncle drink comfortable and not choked, more time she picked up his head, let him drink with the straw.To three uncle to drink good, she was free to put the messy hair, plate to the head.
Busy finish this, she began to give three uncle massage.During this period of massage, she will put her own day to see, hear the fun, tell three uncle to listen to.
He has been holding a mobile phone that is turned on 24 hours a day. When something happens, his first thought is Chaoxia.He said he would have died several times had it not been for the kindness of his niece.Paralyzed in his bed, he became so depressed that he thought of suicide several times. "It was her patience to enlighten me and restore my hope to live.""Thanks to her care, I can live so comfortably," he added.
Talking about Chaoxia with others, grandpa always had only one sentence: "very good and good". In the old man's eyes, she was his own thoughtful little cotton-padded jacket.
The return of the family moved a number of people
Since last August, Yan Chaoxia's life trajectory has become "the factory -- uncle's home -- his own home".An electric car, string up her daughter, worker, "nurse" triple role.
She works in the personnel department of an enterprise in Songyang.In order not to affect the work, take care of the third uncle and grandfather, she tried to arrange the time off work.
From the company to my uncle's house, it takes about 40 minutes by bike.
In three uncle home, Chao Xia boil water to cook, usher to...Everything has her in it.Her neighbors saw her hard work, and in many cases, they would lend a hand to take care of the unfortunate family.
It takes about 10 minutes to drive home. Since last August, Chaoxia has been going on for a year.
Yan Chaoxia has never mentioned to anyone about the fatigue caused by traveling back and forth, only she knows.
A girl in her early 20s is embarrassed to give her third uncle a bath.Yan chaoxia recalls that the first time she took the basin to her third uncle's room to give him a bath, she went through a considerable psychological struggle.
Seeing her daughter growing up and getting married, yan chaoxia's mother couldn't help worrying about her family's condition and devoting most of her spare time to taking care of her relatives."Marriage depends on fate," says Yan Chaoxia with a smile. "Besides, I'm too young now."
In her heart, the kindness of her uncles could never be erased."I choose to give back, and now is the best time."
My uncle's home in the West of the street clear road village village director Xu Huo Ling also said, The child is not simple, let alone "90", is the old group of people in the village are not so intimate.
Just to make grandpa and uncle comfortable
Although He received a compensation, he was left with little after the cost of hospital treatment.At present, Chaoxia's great uncle has gone out to work for the family's expenses, while his second uncle looks after the tea garden of 3 mu at home. He can't earn a little money in a year.But He's follow-up treatment costs nearly 3,000 yuan a month, making the family financially stretched.
Grandpa Chaoxia's right leg is also suffering from bilateral lower limb arteriosclerosis occlusion, and the area below the knee joint has no feeling. Yan Chaoxia really hopes to have a wheelchair, which can help grandpa to go out for a walk.
Chao said her wish is very simple. She hopes that both her uncle and her grandfather can get effective treatment to help them recover as soon as possible."If fate has to play tricks on them, I will stick to it and make their lives as comfortable as possible."
Reporter's Note:
What do 20-something girls look forward to most?Maybe it's the latest iPhone. Maybe it's a handsome, caring boyfriend.But no one should expect a wheelchair as much as Yan.The wheelchair is intended for public use, for which Yan Chaoxia has put a lot of thought, but for a 23-year-old girl, to achieve such a modest dream is not easy.
Yan Chaoxia has been praised by all the people around her for taking care of her uncle and grandfather who are paralyzed in bed all the year round, and has become a little famous in Songyang.Many locals think she should be called "Superxia". Compared with her peers, her filial piety, understanding and persistence have changed their views on the post-90s generation.Yan has also become a role model for many post-90s generation.